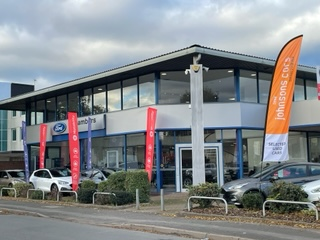 Chambers Ford motor dealers, dual sites
Instalment/solutions provided:
Detector activated CCTV systems
Chambers Ford is a large, successful motor dealership with multiple sites across the country, including at Sutton Coldfield and Tamworth in the Midlands. It was at these two locations where we were asked to provide security assistance.
Challenges the client faced
With many thousands of pounds worth of new cars displayed on the sites' open forecourts, the main problem they faced was how do you allow the public to walk round and view cars out of hours whilst, at the same time, preventing vandalism or theft.
Justice was commissioned to come up with a solution to the client's outdated and very expensive manned guarding which had been employed at the Sutton Coldfield and Tamworth dealerships.
Equipment we installed
Our detector activated CCTV systems provided a workable solution.
How Justice approached the challenges
By installing sufficient CCTV coverage to 'patrol' all the external areas at the sites, now if anybody walks onto these premises out of working hours, the video images are immediately sent to our Remote Video Response Centre. From there, an operator can analyse the live images and even talk back to the site in question over a public-address system.
If the person detected is innocently viewing cars, then there is no need for a response but, if they are up to no good, they can be told to the leave site, otherwise the Police will be called.
The final outcome
As a result of installing these CCTV systems, all images are recorded and saved for future reference, if required. This level of surveillance has helped enhance the level of security at both dealerships. Meanwhile, Justice have also been called in to look after the client's fire and intruder alarms, fire extinguishers and access control systems.