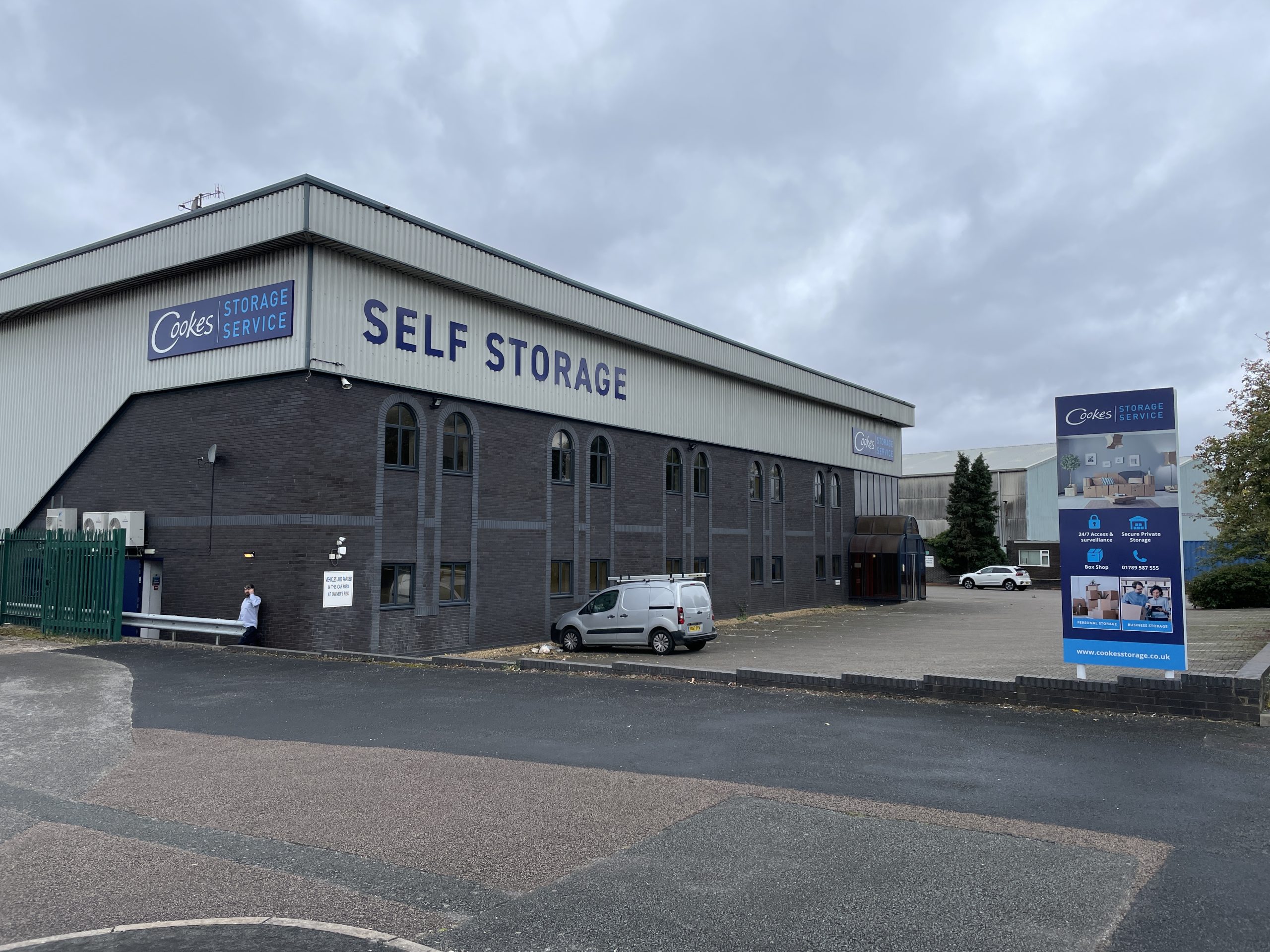 Get in touch
If you operate a business in the greater West Midlands area and are looking to install CCTV equipment or an intruder alarm, please call our main switchboard on 0845 468 0927 to arrange a free site survey and quotation.
Cookes Furniture & Storage
Summary/background of the company
Cookes Furniture is a family business that has been established for over 75 years and is based in Sutton Coldfield and Erdington in the West Midlands.
In the last decade, the business has diversified into storage (Cookes Storage) and recently opened a new 26,000 sq ft warehouse in Stratford upon Avon, serving both domestic and business customers. With plans to double current capacity that will provide space for up to 400 individual storage units, the premises are already one of the largest facilities of their kind in Stratford-upon-Avon.
On the recommendation of a local electrical contractor, we were approached by Cookes to install an intruder alarm system at the Stratford site and also to upgrade their fire alarm system. This had previously been installed around 25 years ago, when the premises operated as a call centre but the system was no longer serviceable.
Challenges the client faced
Before the site could open as a dedicated storage facility, it was imperative to have a new, fully monitored intruder alarm system in place, to provide security for the goods stored within each individual unit. At the same time, the system had to enable authorised customers to gain access to their individual units without compromising overall security.
Equipment we installed – and what happened next
Following a thorough assessment and site survey, it became clear that given the age of the original installation, all the existing detection equipment and wiring was obsolete.
New Intruder Alarm – HKC WireFree System
This consisted of 26 movement detectors and 18 door contacts with area setting via 2 remote keypads. This provided the option to arm the whole facility or the works or offices separately.
The installed system generates a police call-out on a confirmed alarm, using the HKC DualPath monitoring system linked to the Justice Fire & Security Alarm Receiving Centre. The equipment offers remote viewing of both log and operation by management via mobile app.
The additional benefit of this remote connection is that it also allows us to assist at distance with diagnostics from our service desk. This usually means that we can resolve any issues without requiring an engineer visit, thus reducing costs and increasing value for the customer.
In addition, the external site security has been integrated with Barebox internal alarms, which were fitted to each of the individual storage units.
Fire Alarm – Advanced Conventional Panel to Category L3.
This system was taken over and fully tested. Repairs and additional detection where required were implemented following building changes, to ensure L3 compliance throughout. The system also directly notifies the fire services, via CSL Dualcom signalling via our Alarm Receiving Centre.
The final outcome
Cookes Storage Managing Director, James Pike, said he had been greatly impressed with the professionalism, service and attention to detail shown by the Justice team. "Initially, a very thorough site evaluation took place, explaining the best approach for us to take," he explained.
"The installation itself took around a week to complete from start to finish and the team of engineers who were on site were absolutely superb, including through the handover period. The site is now fully operational and I am delighted with the way everything has worked out. I definitely see this developing into a longer-term relationship with Justice Fire & Security," James added.

If you are moving into a new commercial premises where a new intruder alarm is required or where you are taking over existing systems (whether these be for security, fire safety etc), Justice Fire & Security have considerable expertise in handling projects of this nature. This extends to all monitoring, along with the service and maintenance of equipment.
We operate within a 50-mile radius of our Birmingham Head Office covering the wider West Midlands, Warwickshire, Worcestershire, Staffordshire, Shropshire, Leicestershire and Northamptonshire.
To arrange a free site survey and quotation, call or main switchboard on 0845 468 0927
Get in touch
If you operate a business in the greater West Midlands area and are looking to install CCTV equipment or an intruder alarm, please call our main switchboard on 0845 468 0927 to arrange a free site survey and quotation.